Friday, April 16, 2021 - 12:30pm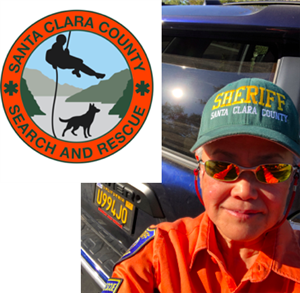 Guest Speaker Mauri Okamoto-Kearneyo
Mauri will share her Experiences with Santa Clara Search & Rescue
Who You Gonna Call? ...when a loved one doesn't return from hiking or biking...or from his daily round-the-neighborhood walk?
Mauri Okamoto-Kearney, a member of Cupertino Rotary, graduated from the training academy of the Santa Clara County Sheriff Search and Rescue team on November 7th, 2018. One week later, she responded to a mutual aid call to search for missing residents of Paradise after the Camp Fire, the deadliest fire in California history. She is a member of the general ground search team and a flanker for the canine search team, two of the 6 specialty teams of SCC Sheriff SAR. Mauri will give us a brief background on SAR, her experiences as a SAR team member, and manager of its nonprofit entity.
Mauri Okamoto-Kearney retired as Senior VP of Product Development in biopharma, having devoted 30 years at Genentech and several startups in the industry. She recently joined Cupertino Rotary and is an active member of Community and World Community Service Committees, championing homeless essentials kits, mental health kits for seniors, and a Global Grant for an elementary school in Cambodia cobbled by Covid. Mauri studied and received her EMT license in January 2020 and joined CalMAT, our state's medical assistance team, providing healthcare service to Covid patients in Imperial Valley this past December and January.
Since retirement, Mauri keeps busy with leadership coaching, has worked in American Red Cross shelters, and is organizing the first free medical-dental-vision clinic with California Care Force in Santa Clara (planned for 2022, hopefully with free vaccinations for influenza AND Covid). She trains and deploys with the Santa Clara County Sheriff Search and Rescue team and is the President of its nonprofit fundraising entity.